We only use safety equipment of the highest quality and our instructors are specially trained and experienced to ensure your adventure is fun, safe and rewarding.
Tree Adventures is OutdoorsMark certified and registered as an approved Adventure Activity Operator (AAO324) with Worksafe. We are also Qualmark assured, which recognises the quality of our safety and business practises.
We pride ourselves on our safety culture which is driven by committed leaders and an experienced team of friendly and professional park instructors.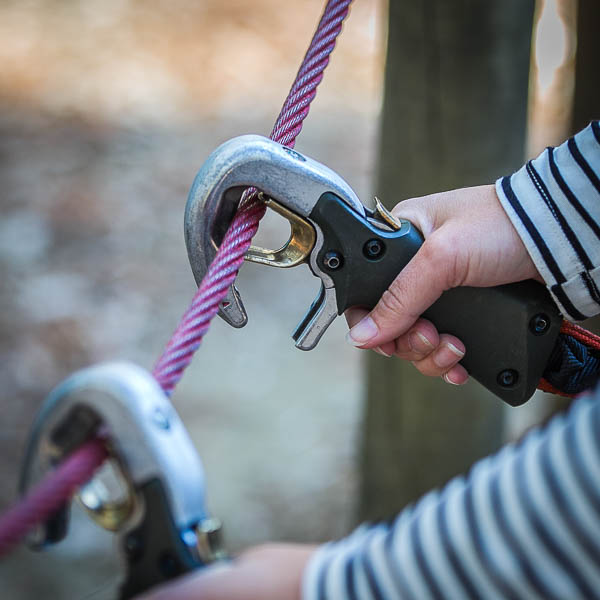 Safety Equipment
All participants are fitted with a harness (complete with Clic-it 'smart carabiner system' and pulley) and a helmet. Your harness and carabiners keep you attached to the safety system at all times, this means that if you slip, your harness will catch you preventing a fall.
Safety Training
Every participant must complete a brief 15-20 minute safety training session before starting the activities. This involves an instructor lead demonstration introducing participants to their personal safety equipment and course safety systems. Once you have completed a low practise course, and the instructor is confident that you understand how to remain safe at all times, you will continue around the courses on your own.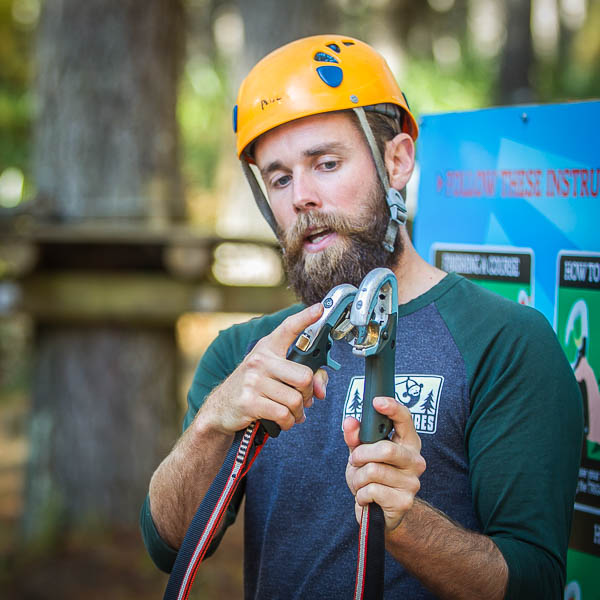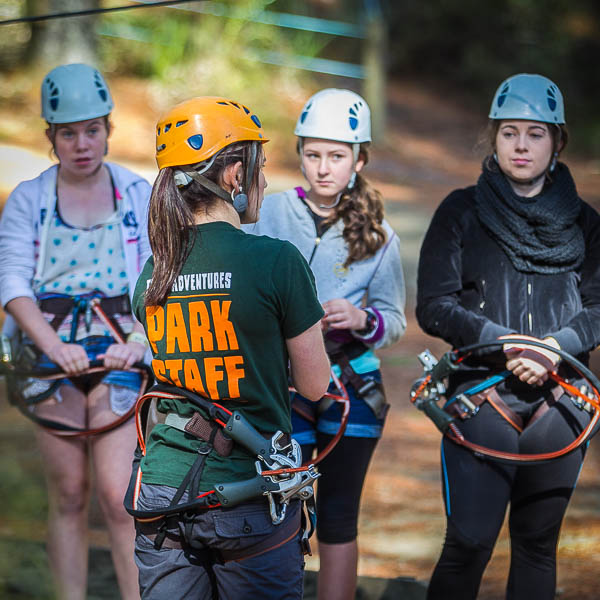 Supervision
One of the great things about Tree Adventures is that you can make your way around the courses independently and be confident knowing that instructors patrolling from the ground are there to offer quick assistance if you happen to get stuck or wish to come down. Our supervising instructors are kitted out with specialist equipment and fully trained to perform rescues from anywhere on the courses.
Do I need to supervise the children in my group?
Yes, anyone under the age of 16 years is required to have active adult supervision (18 years+) in the park at all times.
If the climbers in your group are going to be split over different adventure options it is important you have appropriate supervision. It is impossible to supervise two groups at once so please ensure you plan accordingly. If children are left unattended at any time they will be removed from the activities for their safety.
Supervision ratios are as follows:
Climbers 5 to 6 years
For every 2 children, 1 adult must participate with them on the activities.
Climbers 7 to 12 years
1 adult (watching or participating) for every 6 children. Adult participation may be required if children require assistance.
Climbers 13 to 15 years
1 adult (watching or participating) for every 8 children. Adult participation may be required if children require assistance.
Climbers 16 years and over
Adult supervision not required
Is it safe to climb in the rain?
Yes. The forest canopy provides fairly good shelter from light to moderate rain and this does not affect the safety of our activities or equipment. However, during periods of heavy rain or high winds climbing may be suspended. If you have any concerns about the weather forecast please give us a call. We contact all bookings directly in the event of park closure.
Do I need to be fit?
While you don't need to be Tarzan or Jane to give Tree Adventures a go, a moderate level of fitness and strength is required to negotiate some of the activities. If you have any doubts as to whether you are fit enough please swing by the park and check out the courses before you book. There is a maximum weight limit of 130kgs for all activities.