Everything you need to know before you swing by
Swing, jump, slide and zip your way through the treetops on a range of unique and challenging activities. Here are a few of our favourites.

BOOKINGS ARE ESSENTIAL ON ANY DAY
Avoid disappointment and contact us before you swing by

WE ARE OPEN IN ALL WEATHER CONDITIONS
Except during periods of severe weather e.g. electrical storms, high winds etc

CHILDREN REQUIRE ADULT SUPERVISION
Children under 16 years must be actively supervised by an adult (18 years+)
WEEKENDS • SCHOOL HOLIDAYS • PUBLIC HOLIDAYS
There are no minimum group size requirements, but a confirmed booking is essential to guarantee entry into the park.
Summer (October to Mid-April)
9:30am to 6:00pm
Last entry at 3:00pm
Winter (Mid-April to September)
10:00am to 5:00pm
Last entry at 2:00pm
WEEKDAYS (MONDAY – FRIDAY)
By appointment only for groups with a minimum of 6 participants. 
PLEASE NOTE: If you have less than 6 people and would prefer to visit during the week we might be able to align your visit with another group booking so please contact us to discuss your options.
A confirmed booking is essential prior to visiting the park during the week. Avoid disappointment and contact us before you swing by the forest.
PLEASE NOTE: The park is closed 25 December for Christmas and 31st December and 1st January for New Years, reopening 2nd January 2021.

WEAR CLOTHING SUITABLE FOR EXERCISE OUTDOORS
Long hair must be tied back and a light jacket is recommended when rain is forecast

CLOSED FOOTWEAR MUST BE WORN
No jandals, sandals or slip off shoes are allowed
BRING PLENTY TO EAT AND DRINK
The activities are physically demanding and breaks are advised to reduce fatigue
COLD DRINKS & SNACKS
In our drinks fridge you'll find the Phoenix and Charlie's range as well as bottled water. We also have Whittaker's chocolate bars, Gonutz corn chips and Tom&Luke snack balls.
You'll also find great coffee at the mountain bike park next door to us however we still recommend bringing your own food and plenty of fluids out with you.
PLEASE NOTE: there are no cafes in Woodhill Forest.
GLOVES  $7
Gloves are not a requirement, but are available for purchase, or you are welcome to bring your own (we recommend fingerless biking gloves).
PICNIC AREAS
We have a large picnic area at the park with picnic tables that all customers are welcome to use. However, Tree Adventures is rubbish free, so please be prepared to take any rubbish and recycling with you when you leave.
SHELTER HIRE $10
Protect your group from the elements by creating your own sheltered space in the forest. We have several 3m x 3m canopies available which can be added while booking online or via email.
TOILETS
At Woodhill Forest we are restricted to the use of port-a-loos. They are emptied and cleaned twice a week and Tree Adventures staff inspect and clean the toilets throughout the day. PLEASE NOTE: we don't have changing rooms at the park.
SPECTATORS
Are welcome to observe climbers from ground level at no charge. Pathways allow spectators and participants to navigate all areas in the park
DOGS
Are welcome but must be kept under control at all times as not all our visitors are dog lovers
WALKING
The Woodhill Forest is privately owned land and walking within the forest is not permitted. Muriwai beach provides a range of walking options and is only a 20 minute drive from the park
PUBLIC TRANSPORT
We regret to say that there are no public transport options available and access to the park is by private vehicle only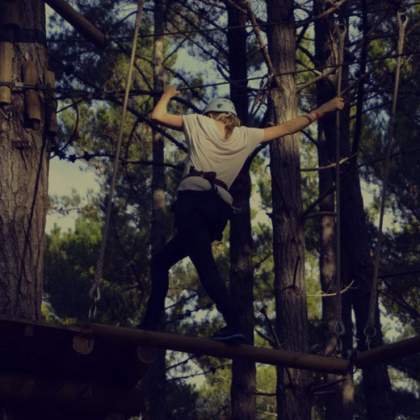 TWILIGHT CLIMBS
$60pp (October-March only) 
We offer special twilight climbs with start times available between 3:30pm and 6:00pm, depending on when it gets dark. A twilight climb is perfect for team building or social club events after work, or birthday parties after school.

Twilight climbs are available Monday – Thursday and require a minimum of 10 people for a booking. The cost is $60 per person and includes an adventure option of your choice. Twilight climbs are only available on request, so please contact us to confirm a booking.
In 2004 Tree Adventures opened New Zealand's first forest adventure park in the Woodhill Forest, north-west of Auckland. While the courses have been upgraded and changed numerous times over the 15 years we've been open, our core values as a business have remained the same. We pride ourselves on providing a fun, safe and rewarding experience which we believe is truly unforgettable. Over the years we've been fortunate to have some incredible people in our team who share our commitment to integrity and exceptional customer service.
HISTORY
The forest adventure park concept was first conceived in France and has boomed in recent years with over 500 parks throughout France, and increasing popularity worldwide. Woodhill's Tree Adventure Park is the brainchild of six French enthusiasts with a wealth of experience working in and building parks throughout France. They researched forests worldwide in the hunt for a new and interesting place to introduce the forest adventure concept and they finally chose the Woodhill Forest in New Zealand for its natural beauty and the adventurous nature of Kiwi culture.
Tree Adventures was the first adventure park of its kind to open in New Zealand and has been operating since December 2004.
ENVIRONMENTAL STATEMENT
Tree Adventures is an environmentally friendly park built with the long-term health of the forest in mind. A professional arborist carefully selected the trees on which to build, and ongoing assessments monitor their structural integrity and health. Our structures are designed to avoid damaging the trees and allow them to continue growing naturally.
Tree Adventures staff monitor the courses daily and perform thorough checks on a regular basis. A specialist independent company also performs an annual course audit to ensure safety.